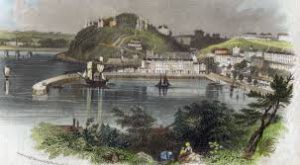 On October 8th 1834 the darkness was banished from Torquay. Forty gas lamps were installed in our main thoroughfares – two years later the street lighting was extended from Castle Circus to Torre.
Before this, if there was no moonlight, Torquay folk would find their way with personal lanterns, while business owners would sometimes hang lanterns outside their premises.
The first public street lighting with gas (made from distilling coal) was demonstrated in Pall Mall, London on January 28th, 1807 by Frederick Albert Winsor. Yet, gas street lighting wasn't widely available until the mid-nineteenth century – Torquay, already on its way to being the richest town in England, was a fairly early provincial pioneer. Yet, the new gas street lamps only illuminated a few feet around their posts – the brightest lamps provided less light than a modern 25-watt incandescent lamp and were placed at some distance apart. Nevertheless, this was revolutionary in Torquay. It was modernity and it transformed the town.
Torquay magistrate Joseph Garrow was there and composed this poem. It cleverly lists the Harbourside shops of the time – with the occasional dig at those old fuddy duddies who hadn't embraced the new-fangled invention. The original can be read in Ellis.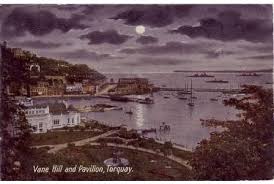 Come quick, Jemima, bring your shawl,
Come, come, and take my hand,
And let us see the brilliant gas,
Just lighted in the Strand.
Oh! Yes Papa- Oh! what a treat,
The Strand looks all-in flames;
I know the shops, so let me, pray,
Just tell you all the names.
The Bat, they say, ne'er quits his hole,
Until, the dusky night,
But here's a bat wing flitting round
More than the noon day bright.
And Bats, we're told, love darkness grim
Within their little cell;
But here the gas lights blaze away
At Batt's well known Hotel.
(The Royal Hotel)
What have we next, must silver bright
On pedestal so prim!
Had Jacob's father burned gas light
He saw (Esau) had ne'er mocked him.
(Alexander Jacobs, silversmith, died in 1893 at 8 Castle Terrace. He built Gerston Terrace, Paignton and owned Simla, with 3 acres of ground at Goodrington).
Ribbons and lace, and dresses gay,
I ne'er have seen so well,
This little shop, which once so dark,
Will now Rend-ell for ell.
(Renfell was a linen draper)
Here's old established grocery
Or physic as you will,
Who buys it here can see so clear
They never can Hav-ill.
(Paul Havill was a chemist)
Holm wood, I fear, has taken fire,
The brilliant blaze so brilliant comes;
The gas improves the trade so much,
Currants will turn to plums.
(Holmwood was a grocer)
Oh! La, Papa, Oh! pray look here,
Done be in such of a hurry
Just look at Cockrem's, one would think
The Sun was stationary.
(Cockrem operated the Sun printing office)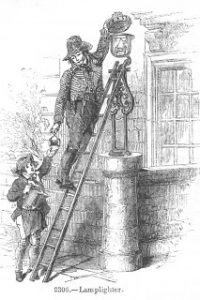 And here's a fiery dragon, too,
Just tamed by Mr Burt,
Sitting, he breathes six fiery flames,
Flames which can do no hurt.
(This was a dragon made of mahogany by WC Burt cabinet maker with a burner projecting from its mouth)
Oh! What a lovely pair I see,
Shown by this light in front,
Tis Hero and Leander, sure,
Across the Ellis Pont.
(Ellis was a hairdresser)
Here's gold and silver, jewels bright,
Sold by a Son of Job,
But he's magnificent, and so,
He needs must light the globe
(Braham was a jeweller)
Oh! What a flame, and white and blue,
I pray thee do but tarry
Sure in this world was ne'er such blaze
He's son of the Old Harry
(Harrison was a chemist)
Look opposite a thousand heads,
Oh, me! whence can they come?
Pray tell me, Jenny, where's the man,
Where is he? Wy-att home.
(Wyatt was also a chemist)
Now here's the last along the Strand
It cuts a mighty splash, sir,
And I believe, don't you, Papa
"Twill help to make a Dashper"
(Dashper was a linen draper)
There's Birmingham and Sheffield ware,
Which used to look so sad;
Here, to the right, then people stare,
As if it were Stark mad
(Stark was an ironmonger)
See here the new light circulates,
Without e're smoke or gloom,
Knowledge it offers of all sorts,
Or lights a Billiard Room.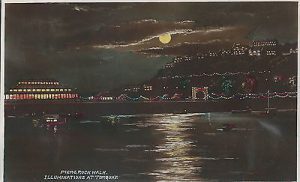 Here learning of all kinds is found,
For head, or heart, or soul;
Good people, do not burn yourselves,
They say you're made of Cole.
(This was Mrs Peggy Cole's Library)
Oh! Here's a flame three feet in height,
Bright as a salamander;
Too high to last, midst boots and shoes,
He looks like a High Lander.
(Lander was a shoemaker)
And here's a many-coloured flame!
The owner looks so sage,
As pills or potions he compounds,
Or reads the chymic Page.
(Page was a chemist)
But what a dingy light is seen,
Our senses to appal
From Buckey's five-mould stingy ray
As far as darkness Hall.
(Buckingham, Grocers Hall, linen draper was still only lit by candles)
One light, indeed, beguiles the way,
And saves our scared wits,
It lights the shop and pathway too,
We've nought to fear from Pitts.
(Pitts was a baker)
To look at Gidley's farthing rush
In truth I cannot stay,
And that shop there does look so black,
It's well called White Away.
(Gidley and Whiteway were still lit with candles)
Now, dear Papa, I've seen enough,
So homeward let us pass,
And ere we lay us down thank God
That we have seen the gas.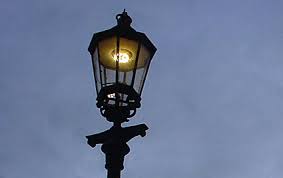 Oh! may it prosper, may it show
The ruffian as he lurks,
And may the new light drive away
The devil and his works.
Good night, Jemima, fare thee well,
Thy words all praise surpass,
And may'st thou never feel a flame
That's more impure than gas.