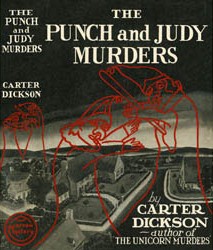 Here at WASD we like to remember past residents of Torquay. We also have a fondness for books that feature our great town by the sea. One of these novels was written by the now largely forgotten John Dickson Carr (1906-1977). John was an American author of detective stories, who also published under the pen names Carter Dickson, Carr Dickson and Roger Fairbairn. He wrote 31 novels in the 1930s.
The son of a US congressman, John (pictured right)  lived for a number of years in the UK and he married an English woman. Many of his novels had English settings, his best-known detective characters were English, and he is sometimes described as a 'British-style' mystery writer. He is known as one of the greatest writers of the 'Golden Age' mysteries, which were complex and plot-driven with a puzzle at the core of the story. His The Hollow Man (1935) was selected in 1981 as the best 'locked-room' mystery of all time by a panel of 17 mystery authors and reviewers.
As Torquay was well known to many thousands of literate visitors, it's not surprising that John decide to set his novel in our town. This was The Punch and Judy Murders (also known as The Magic Lantern Murders) and was published in 1936 under the name of Carter Dickson. It features the detective Sir Henry Merrivale. Here's the storyline:
Kenwood Blake is about to marry his fellow British Secret Service operative, Evelyn Cheyne. He is sidetracked, however, by an urgent telegram from Sir Henry asking him to come to Torquay to go undercover to investigate a suspicious German ghost hunter and spiritualist. It's believed a German spy known only as L is in town.
However, the chief suspect is soon found dead in his easy chair, "grinning from the rictus of strychnine and wearing a Turkish fez". This image makes a nice cover for the book.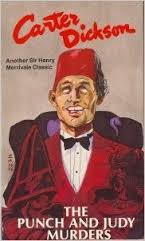 Another German suspect is also murdered across town. The hero and his fiancée then race around Torquay avoiding the police while investigating espionage, counterfeiting, spiritualism, and multiple impersonations. Eventually, the murderer is revealed just in time for the wedding to take place.
One reviewer described the book as follows, "It is full of secret agents in disguise, mysterious experiments and derring do. It is a real page turner and well worth a read."
Here's a bit of trivia. Franklin D. Roosevelt (pictured below left), the 32nd President of the United States from 1933 to 1945, died three months into his fourth term. He is often rated as one of the top three Presidents, along with Abraham Lincoln and George Washington.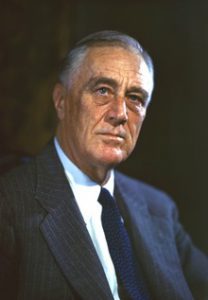 In an article "FDR and the Stuff of His War" (The New York Times, February 3, 2006)  an exhibition dedicated to FDR is described, "The day before he died, Roosevelt worked on a speech about the post war world, reminding the country 'that great power involves great responsibility.' I like that the exhibition also shows the pulp mystery found on his night stand: 'The Punch and Judy Murders' by Carter Dickson. Human beings, not icons, are at work – something that is always humbling."
In another article from the Pittsburgh Post-Gazette, April 12, 1995 entitled, "50 years ago, FDR died and a nation was stricken", we read  "The president seemed to rally at Warm Springs, but was still enfeebled. His last evening alive he read 'The Punch and Judy Murders' by John Dickson Carr. He left it lying open to page 78, the beginning of a chapter ominously titled 'Six Feet of Earth.'".
It doesn't look as though FDR had the time to find out 'whodunit' in Torquay.