As Torquay developed during the nineteenth century, the town's traditional burial grounds of St Saviour's in Torre and at Upton gradually became overused. Alongside this obvious overcrowding and competition for space, old medieval churchyards were seen as a being source of 'miasma', a stench that was believed could poison local residents.
Even though additions were made to Torre's churchyard in 1836 and 1842, this was still insufficient for a town that had a population of only 838 in 1801 but 11,474 in 1851. We were on the way to being the richest town in England and so deserved a modern solution to an old problem.
In February 1850 local residents petitioned for a prohibition on further burials at Upton and so a new Torquay burial place was clearly needed. Accordingly, in 1852 sixteen acres of agricultural land, adjacent to brickworks and potteries, was purchased on high ground on the outskirts of town. This was near a place named after the Old English word for 'hidden' – Hele.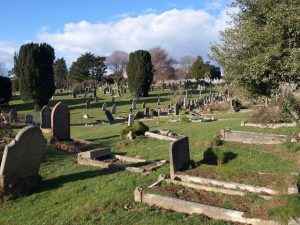 This would be a High Victorian garden cemetery and was established by a commercial organisation, The Torquay Extra Mural Cemetery Company. Known as Torquay Cemetery, or as Barton Road Cemetery, it became the town's primary last resting place for locals and visitors when the churchyard at Torre was finally closed to burials in 1895.
Significantly, as this was a private company and not the 'communally-owned' Church, this endeavour was effectively the privatisation of death and burial in Torquay. And by transferring the dead far away from Torquay town centre, this 'rural cemetery' certainly allowed for a much larger burial ground. But it also removed the dead from the immediate realm of the living where they had their place at the centre of our community for well over a millennia.
The first interment took place in the Nonconformist section in 1852. This was because the Bishop of Exeter, Dr Henry Philpotts, only allowed the consecration of the cemetery after the Anglican section was physically separated from any adjoining burial ground by a wall. The first Anglican internment then took place in June 1854.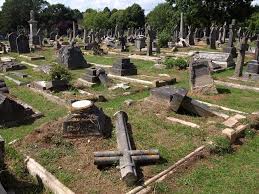 At the same time a chapel was constructed and consecrated for the use of Anglicans – a chapel for the use of Nonconformists was built in 1862. Such double chapels – one for Anglicans, one for Nonconformists – were common in Victorian cemeteries. As in life, Torquay's dead would be separated by religion.
The opening of Pere Lachaise Cemetery in Paris in 1815 had provided inspiration for our local cemetery designers. And so our necropolis was landscaped, with sweeping roads wide enough for carriages, and smaller paths for strolling. Careful planting of trees and architectural features were designed to impress and give the effect of a park, with our duel chapels taking the place of a country house.
The cemetery's entrance was comprised of cast-iron carriage gates set in high stone walls near a stone lodge in Tudor Gothic style. Such entrances were very elaborately fashioned, marking the fact that visitors were entering an alternative community of the dead. Here you could leave behind the busy mercantile town outside to enter a spiritual realm of contemplation. From the gates a drive follows a curving course either to reach the Anglican chapel, or the Nonconformist chapel.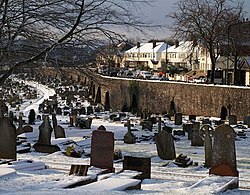 Yet there was no equality in death. For Torquay's middle and upper classes such a commercial 'garden cemetery' facilitated the spending of great amounts on building monuments and tombs for the departed. It was expected that an aspiring family would spend as much as it could afford on a monument appropriate to the deceased's – and the families- social status. This was a new opportunity for conspicuous display which appealed particularly appealed our newly emerging middle class, keen to distance itself from the working class and to present to the public its social status. Graves were seen as a public extension to the household's property, and cemeteries provided a secure and well-maintained place for families to establish permanent monuments to themselves. It was a kind of immortality.
From the 1850s onwards our cemetery wasn't just a place in which social status could be established in stone or marble. It was also somewhere to visit, to reflect and contemplate. It had winding roads and picturesque vistas and was an important space for recreation – a large piece of ground filled with sculptures and horticultural art.
Victorian graves tended to be much more elaborate than their modern counterparts. Monuments were usually symbolic – either religious (angels, the letters IHS, a monogram for 'Jesus Saviour of Man' in Greek), alongside symbols of a profession (horseshoes for a coach driver, palette for a painter). Prominent are symbols of death: urns (classical symbol of Roman cremation); wreaths (of eternal life); broken columns (classical symbol of life cut short); upside-down torches (the extinguishing of life); grieving women; obelisks (the Egyptian symbol of eternal life).
Such symbols could also subtly inform the visitor of the family's views on religion. Torquay's dominant Anglicans, for instance, could distance themselves from other local Protestant traditions such as the Methodists or the Quakers, and particularly from the town's growing Catholic community – some Protestants even seeing a cross as too much of a symbol associated with Rome.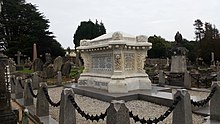 These statements can be seen in the numerous memorials and burials of notable and famous individuals and families within Torquay Cemetery. One striking example is the monumental white marble sarcophagus commemorating Isaac Merritt Singer of Oldway Mansion. This Renaissance-style sarcophagus is ornamented with plants of symbolic significance such as maize, indicating Singer's American origins. Also found here is the grave of George Marsden Waterhouse, Prime Minister of New Zealand, showing the town's status as a place of retirement for many famous Victorians.
Yet, even in death, nothing would stay the same.
Towards the end of the nineteenth century people began to object to the crippling cost of funerals, monuments and ostentatious mourning. There also seemed to be a reaction against Queen Victoria's obsessive grieving for her husband and her withdrawal from public appearances. Edward VII's succession in 1901 further changed attitudes, as technology made the world more open, both psychologically and physically. What made most difference, however, was the senseless waste of World War I which challenged the certainties of Empire and Faith. So many were lost or buried in France that Victorian monuments suddenly seemed inappropriate – almost immediately, lavish displays for the dead disappeared. We subsequently came to see the world differently.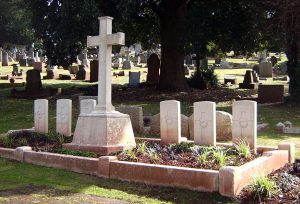 As attitudes to death changed, cemeteries began to be laid out differently – headstones became more discreet and monuments less extravagant. Then we can see the simple memorials to the twentieth century victims of conflict in the 136 burials associated with the First World War and the 97 from the Second World War. We can also appreciate the contribution of the Empire in the group commemorating servicemen from New Zealand. Here was a new equality in death that replaced petty Victorian rivalries.
The greatest change in the post-Victoria era was, however, the gradual acceptance of cremation – first proposed by a few radical thinkers in the late 19th century. Cremation was not illegal in England – the first working crematorium was built in Woking in 1879 – but it was not widely practised in the nineteenth century. However, in 1902, Parliament passed the Cremation Act which formalized the use of the practice. Following this evolution in practice, in 1929 Torquay Cemetery acquired another area of from the Cary Estate to the north of Hele Road. Here they built a crematorium. By 1968 more than half of all the dead in Britain were cremated – today, it's around 77 per cent.
Still Torquay's Cemetery changes with the town. It was extended in 1869, and again in 1921. Though it remained the property of the Extra Mural Cemetery Company until 1975, its management was then taken over by Torbay Council.
We all know where our town's necropolis is, but few now visit. Perhaps we should. Its architectural and historical importance reflects the social and economic development of Torquay during the nineteenth and early twentieth centuries… and unlike so many other features of Victorian Torquay, which have been remodelled or lost, it probably always will.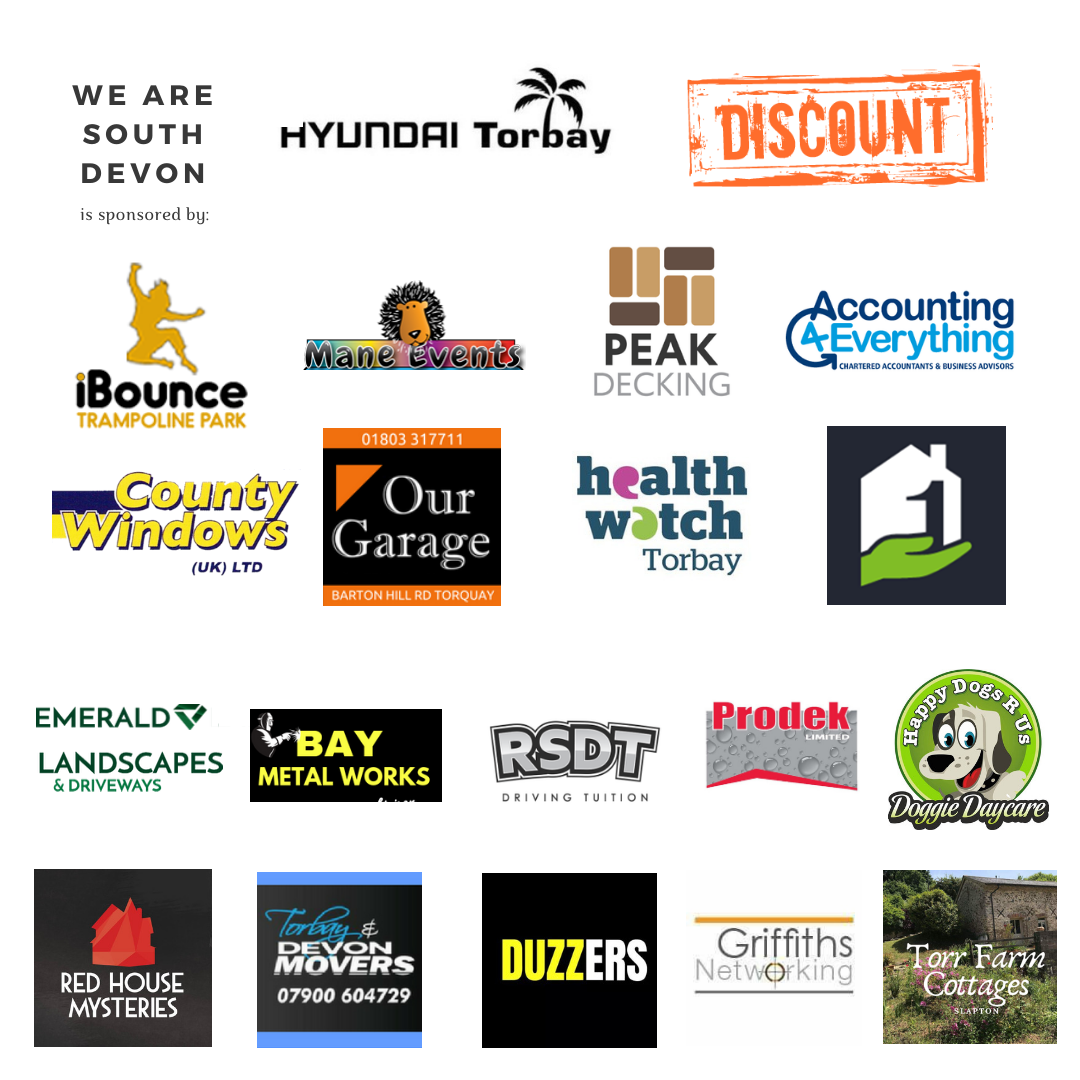 You can join us on our social media pages, follow us on Facebook or Twitter and keep up to date with whats going on in South Devon.
Got a news story, blog or press release that you'd like to share or want to advertise with us? Contact us