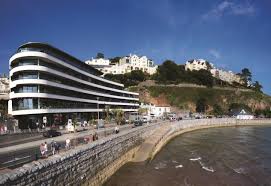 In 1954 the author Nancy Mitford wrote an essay, 'The English Aristocracy' for the magazine Encounter. She provided a list of terms used by the upper classes which caused a national debate about English class-consciousness. There were, apparently, U and non-U English words, with 'U' standing for 'upper class', and 'non-U' representing the aspiring middle classes. In short, how you say particular words tells others what social class you are.
For example, saying words like vegetables, scent, nice, ill, looking glass, graveyard and spectacles suggested that you were upper class; while greens, perfume, lovely, sick, mirror, cemetery, and glasses, were middle class words.
The issue of U and non-U was supposed to be a bit of fun, but many took it very seriously.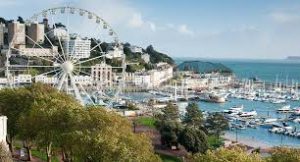 But how we identify which class someone comes from has changed and may differ in different parts of the country. In Torquay, for example, there was always a distinction between View and Non-View – which properties could see the sea and which could be seen from the sea.  Indeed, there's a story that the site now occupied by the Anglican St Lukes Church was originally going to be the site of the Catholic Church now on Abbey Road . However, that would have meant that the first church seen by visitors as they sailed into Torquay would have been Catholic and so the Chuch of England built there first. This may just be one of those Torquay stories – the Church of the Assumption of Our Lady was built on donated land in 1853 while St Lukes dates from 1860 – but it does show the importance of religion in the past that the story persists.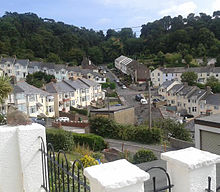 Working class housing was built in the hidden valleys of the town, while the homes and guest accommodation of the wealthy had to have a sea-view. This is logical in that homes with views were bound to be more expensive. We were the richest town in England and that has left us with a legacy of large Victorian and Edwardian houses. At one time we had 500 of these large properties that became known as Torquay villas. These were communities and employers in their own right, employing servants, chauffeurs and gardeners. By 1890 Torquay had around 20% more men than women as female servants were in great demand to ensure the efficient running of our villas.
We now have the technology to wash our own clothes, clean our own houses, drive, and generally look after ourselves so we don't need a large servile class. In effect the villa became redundant. What happened to these old large houses often depended on where they were. If they had a good view of the sea, they were often demolished and the land built on. Or they were converted first into small hotels and then into luxury apartments, which were sold to incomers and the wealthy retired. If they didn't have a view, they could be turned into less expensive flats, into care homes or into houses of multiple occupation (HMOs).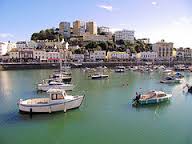 Torquay then evolved a class division between View and Non-View. There also emerged an age division with older retired professional people occupying the more expensive apartments.
Something else seems to be happening. Until the late twentieth century Torquay wasn't a town where the well-off lived in high rises. Like other parts of Britain we were low rise. Across Britain it was council tenants who lived in derided tower blocks – think of the Trotters in their Peckham flat. Incidentally, a luxury home on the council estate where Only Fools and Horses was set has just sold for £1.1million.
Until the late twentieth century it was assumed that towers were for offices and the poor. In Torquay the upper stories of buildings were reserved for the working class in parts of town such as Swan Street and Pimlico. Now, improvements in lift technology, heating and insulation are making high-rises more and more attractive. Indeed, our architecture reflects and reinforces divisions with ever increasing clearness. Around the world the built environment, both above and below ground, has become dramatically more vertical and more unequal. As our towns and cities become more polluted and congested, wealth is moving upwards into islands of residential towers, hotels, and private clubs. The prosperous are getting their light, clean air and views. Living in secluded tower blocks can also offer a degree of safety in more troubled urban environments. Note how police helicopters and drones in American cities are now deployed with equipment derived from the wars in Iraq. Not only does wealth live in the skies, power can be seen there.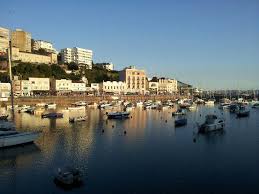 Another odd development is that in some places the rich are retreating below ground into a realm previously associated with the poor. In London basement living is now coming to mean privileged seclusion rather than Dickensian squalor.
We're not there yet, but we know that what starts in London eventually travels to Torquay.
You can also join us on our social media pages, follow us on Facebook or Twitter and keep up to date with whats going on in South Devon. Got a news story, blog or press release that you'd like to share? Contact us
//pagead2.googlesyndication.com/pagead/js/adsbygoogle.js
//